Painter Annette Labedzki Comes Full Circle as an Artist Through Instagram Fame
Take a look at Annette Labedzki's Instagram account, there's post after post of realistic frozen paint creations, from Oreo cookies and avocados to mermaid tails and skeletons. There's something so oddly satisfying and sensuous about seeing these creations mixed into paint that it has attracted 880,000 followers and counting. Her work has been featured on sites such as Bored Panda, Buzzfeed, and Insider Art; she's even been approached by companies looking to collaborate on marketing campaigns. It's an Internet fame that Annette is exceptionally grateful for, but still coming to terms with.
As a Fine Arts graduate from Emily Carr University of Art + Design, Annette's Instagram posts are "30 years crammed into one minute." Those 30 years have been spent studying colour and paint, from abstract paintings to human anatomy sketches, resulting in more than 1,000 scrapbooks that document her progression as an artist. As part of that artistic evolution, Annette is a self-confessed shy artist who worked in "horrid isolation" without music and people, and essentially without distraction to stay focused on her path as a creator. Annette has now come full circle, commanding an audience with her work and finding fulfillment in the interactions with her community of followers.  Plus, it's a huge reward having people like what you do!
Annette now classifies herself as a performance artist who, through Instagram, is sharing her deep love for colour with the world. As with any new endeavour, this humble painter is learning to navigate her newfound fame, taking the energy she gets from her audience and using it to push herself in new directions.
What followers rarely get a chance to see is how wonderfully quirky Annette is, and how it has taken this artist, the course of a career, a camera and the Internet to find a stage to display her work and personality. We all reap the benefits as she shines through in her viral hits like "My Bloo Banana", which Annette initially thought would be a flop but is one of her most popular posts with over nine million views!"
Through the encouragement of her real-life supporters and those who live a click away, Annette is still surprised by the reaction people have to her creations and is staying motivated to create something new everyday.
Alone in her studio, Annette Labedzki engages hundreds of thousands of paint mixing followers as she chops, crushes, swirls, and smooshes moulded shapes of frozen paint before her phone camera. Thanks to Instagram, Annette is able to perform her art before an international audience and demonstrate her love of paint and pure colour. Her mesmerizing process has captivated over 888,000 followers online. It is a dream come true for an artist like Annette, who needs to work in solitude but also thrives on the energy and support of her online community. In getting to know the artist behind the videos, we discovered that Annette's success was neither instant nor a fluke—it has taken 30 years of painting and fighting to stay on the path she crafted for her art.
How did you first get on Instagram? 
I started Instagram when it first was launched. I loved it right away. I knew it would be successful, but not a lot happened. I was just posting my paintings, and posting them on Facebook. Then about a year and a half ago, I saw some videos of a little bit of paint mixing, and I thought since I do it anyway every day, I thought I would try it on a video on Instagram. The first one I did it was late at night in my pajamas, and it was really bad lighting. It caused something like 30,000 views, and I just loved the energy and the comments, so I just everyday go from there. I try to learn and change things and always just use my love for colour.
What are you feeling and thinking when you see 30,000 views? What's going through your mind?
That I don't understand. I don't understand why people like the videos so much, because it's very difficult to be objective. I can't see what other people are seeing. When I look at my video, I just critique it. Same with my art, I critique it and try to see what I did wrong and try to learn from that.
How would you describe the art that you create today?
Now I feel that I'm more of a performance artist. I really feel like as soon as I turn the camera on and start doing something with the paint, I feel like I'm performing for the viewers and for the camera.
How do you feel about the attention that you receive?
It's great attention. There are lots of little job offers, and lots of media companies wanting to make little compilations. What I love is just the day-to-day relationships with people. Just the comments and the private messages that it helps with their anxiety, and so I really enjoy that. I really enjoy feeling like I'm part of a community. It feels like a community of people who love colour or something, and that's a nice, nice feeling. It's unbelievable, I'm incredibly grateful everyday. I never take it for granted. I try to not let the attention change who I am, or change the integrity of my art. I'm just very grateful because I know the life without the attention, and it's far more difficult.
Now I feel that I'm more of a performance artist. I really feel like as soon as I turn the camera on and start doing something with the paint, I feel like I'm performing for the viewers and for the camera.
Do you feel things have changed for you from what you were doing before to what you're doing now?
Yeah, before I was painting in solitude, and now I'm performing, or my hand is in front of a camera. So, it's with a huge audience. It's quite a change. When you're painting alone, you don't have that audience. You have to photograph it. You've gotta post it somewhere. It's not the same as with these videos.
Describe a moment where you said you worked in isolation.
Oh, it was horrible before Internet days. I always worked alone, and I still need that solitude but it was hard, because I never wanted to quit and get a job and have colleagues. So, I'm doing what I love and I stayed on my path, but I'm always alone doing it. So now I'm still on the same path, but I have an audience and there's an energy that's just amazing and fantastic.
Where do you get your inspiration from ? 
I think it's a number of things. Just loving where I live—for me, being near the ocean is really important. It gives me a feeling of freedom, and that feeling helps me to be really productive. So that's a big part, and just magazines and other artists and relationships. Sometimes just a couple on the street can inspire me. Movies, for sure. I have to watch my movies almost every night, and see colours in the movies.
What is your favourite thing that you've done? 
I love making those Oreo cookies. Some of my favourites are also when I put a few dabs of colour and just use a big spatula. You know, not too much sound. No chopping, just the pure colours. Then, some of the funny ones like when a cookie goes flying, or the camera almost fell. So, things like that I like to just show some reality. The whole thing is my favourite. They're all my babies.
What's challenging about it?
That I don't have anywhere to turn to for advice. I have to figure everything out on my own. Some paint freezes differently than others. Some paint doesn't freeze at all, it's just a sticky mess. Some of the cheaper paint, which I think has a lot of water in it, gets very hard and takes forever to defrost. So, lots of challenges like that.
What you do is really youthful. Is that how you see it?
Well, that's the weird thing, right? Like 30 years of experience crammed into one minute, and I am now touching an audience that's 18 to 24. It's like I stayed on my own path for many, many years, very strict and disciplined, and made art that wasn't mainstream, and now all of a sudden my art is mainstream, but I'm still on my own path. So, it's very strange for me. The whole thing is mind-boggling, because my art is not really mainstream. They're bizarre, abstract, with strange characters and everything. So now, I think when I make an Oreo or the mermaid tails, it's very mainstream. People love those, and I do too.
Talking about feedback, what are some of the comments that people make?
Some of the bad ones, let's see: What a waste of paint. Why are you wasting paint? What do you do with the paint afterwards? Yeah, wasting paint, and they spell the word waist w-a-i-s-t, so that's the worst. I get way more positive comments than negative. They're not really bad, some people don't really think before they type, and so they'll write something that doesn't really make a lot of sense. I mostly just get a lot of wonderful comments and wonderful people.
What type of artwork did you do before?
Before Instagram, I was doing a lot of abstract paintings, but always studying colour, human nature, relationships, incorporating that into my art, and coming up with humorous titles. I think it took me about two years of working through a lot of anxiety to be able to express myself  because you make yourself vulnerable when you express things. The titles as another part of the expression was really difficult, but those titles are really an important part of the videos. I think, when I notice some people repost the videos without the title it's like half the art is missing.
Have you grown a lot personally from when you first started?
I'm still working on it. I feel that all this attention has made me aware of how low my self-esteem is. Then there's my ego that thinks yup, I deserve it, I'm great … no, maybe not, but you know. There are a number of different things going on in my head. I think it just has something to do with my childhood and not ever really having felt like I was worthy. So, all this attention is really pointing out that feeling of not deserving the attention or not being worthy of the attention. The attention is pointing out that I have some more inner work to do, like we all do.
Was there any particular advice you've been given that's really stuck with you?
One line from this one friend who was like my mentor: stay true to yourself. That helps a lot to just remember that. Be true to yourself. My own advice is to never give up. It's little bits and pieces, right? Someone can say something that inspires you, but I don't remember what it might be or who it was. So, it's an accumulation of different people that you meet who say something that really hits home.
Before Instagram, I was doing a lot of abstract paintings, but always studying colour, human nature, relationships, incorporating that into my art, and coming up with humorous titles
What do you see yourself doing next? 
I've had so many private messages saying that the videos help people with anxiety and depression. I would love it if my videos were used in some sort of medical facility or institution to help people. Another dream that I would love is to see my videos in a fashion show or something in the background. You know, really blown up huge. That, I think, would be really cool.
What would you say your true calling is?
To paint, and through the painting give people joy and hope, including myself. To be a good mother. It's not only about art all the time, right? To be a good person, caring, and kind whenever possible.
As told to Amy Huynh. This interview has been condensed and edited.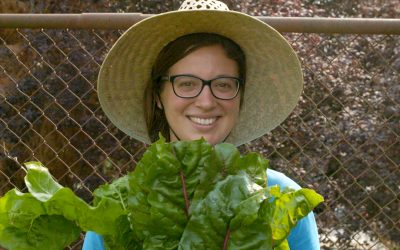 How Rosalind Sadowski and Fresh Roots Farms are working with young people, using food as a catalyst for education and empowerment.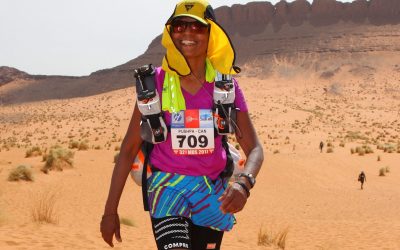 Dr. Pushpa Chandra has run over 500 marathons and ultramarathons. In commemoration of her 60th birthday, she participated in the 2018 World Marathon Challenge, aka 777, making her the oldest female to run seven marathons within seven days in seven continents.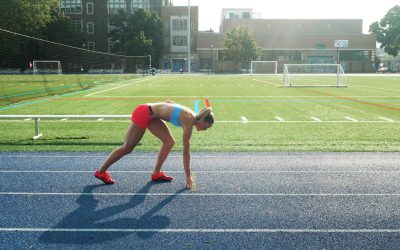 Canadian Olympic hurdler Sarah Wells is no stranger to obstacles, both on the track and in her everyday life. This decorated athlete has seen both success and heartbreak during her athletic career.